HOME PAGE

SITE GUIDE

SEARCH


REVIEWS

REVIEW ARCHIVES

ADVERTISING AT CURTAINUP

FEATURES

NEWS
Etcetera and
Short Term Listings

LISTINGS
Broadway
Off-Broadway

NYC Restaurants

BOOKS and CDs

OTHER PLACES
Berkshires
London
California
New Jersey
Philadelphia
Elsewhere

QUOTES

TKTS

PLAYWRIGHTS' ALBUMS

LETTERS TO EDITOR

FILM

LINKS

MISCELLANEOUS
Free Updates
Masthead

A CurtainUp Review
Close Ties
I am a true dabbler—with the will of a general and the imagination of a chair. I was completely fit to be a wife and mother—and God knows that if every woman who followed the same path had similar qualifications, the crime rate would be reduced to zero. But the world would be hopelessly boring. There is the pitiful irony for mothers like me —we produce such boring children.
— Josephine Whitaker the senior member of the three generations gathered for a weekend at the family summer home.
---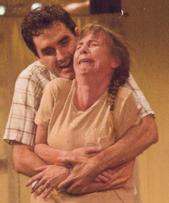 Tommy Schrider and Fiona Gallagher
(Photo: Zack Brown)

As a rule one visits the Ensemble Studio Theatre (EST) to discover a new play for the company's dual mission is to develop new plays and nurture theater artists. It's to focus on the second part of that mission, that EST's artistic director William Carden decided to emphasize the Ensemble part of its name by putting on plays with larger than usual casts. Close Ties by Elizabeth Diggs certainly lives up to that mission. It not only has roles for eight actors, but for actors representing life's whole spectrum of ages.

It would be understandable if Mr. Carden's decision to launch his season of large ensemble plays with Diggs' 1981 family drama in hopes that the success of Tracy Letts' 13-strong, Pulitzer Prize winning family saga, August: Osage Country would have a positive ripple effect on this long delayed New York premiere. While August. . . was a hit from the time it premiered in Chicago, Close Ties has traveled along more quiet theatrical back roads since its initial run at the Yale Repertory Theater (some regional productions and a 1983 TV movie with a screenplay by Diggs).

It is indeed a pleasure to see the straight play with a full complement of actors once again part of the New York theatrical landscape and Close Ties does have elements that invite comparisons with the Letts play. Both are kitchen sink dramas (EST's small stage notwithstanding, Michael Schweikardt has designed a spacious, character defining kitchen). Both prominently feature three sisters (ah, but didn't Shakespeare and Chekhov beat Letts and Diggs to that setup?) But while the Whitaker-Frye family members are intelligent and decent enough, neither are they especially memorable. Despite a bravura performance by veteran actress Judith Roberts, that goes even for her tyrannical yet much loved family matriarch who's fighting a losing battle with Alzheimer's. The fact is that the most endearing character in Diggs' play is Tommy Schrider's Ira Bienstock, a non-family member who, heaven knows why, is in love with the seriously dysfunctional middle sister Evelyn (well played by Fiona Gallagher).

Actually, this is really two plays rolled into one: first it's a very timely problem play about dealing with a beloved family member's rapidly escalating Alzheimer's (withinin the play's 1982 time frame, still referred to as dementia). It's also a variation of the much done plot device that brings children now living their own lives back to the family vacation home long enough for everyone to unpack not just happy memories but long simmering resentments. (In this case, one of the three sisters is happily married with children but nurturing dreams for an acting career; the unhappy middle sister is a graduate student; and the youngest and gentlest is a nurse).

The decline of the feisty Josephine is all the more touching because she realizes what is happening to her. Roberts' character reminded me more of Eileen Heckart's Gladys in Kenneth Lonergan's heartbreaking The Waverly Gallery (in 2000) than August: Osage County. Though a decidedly old-fashioned woman who was never dissatisfied with being a wife and mother, she's opinionated and controlling— a self-described "true dabbler with the will of a general and the imagination of a chair." The fact that Josephine retains her considerable charm and powerful personality even at 84, makes her battle with senility all the more harrowing.

Under Pamela Berlin's sturdy direction, the family overall is a real and believable enough and Ms. Diggs has ably established the world of well-bred WASPs who are learning to make the best of seeing their children in relationships with Jews and Catholics and seeking out psychotherapists to deal with their emotional problems. Her dialogue also includes some trenchant discussions about male and female relationships. However, the playwright hasn't dug deep enough into all the characters so that only a few of them make lasting impressions.

None of the female characters have Josephine's charm and personality, which bears out her comment that if women were content to follow her life pattern that there be less crime but that " the world would be hopelessly boring because mothers like her —we produced such boring children." This is especially true of her daughter Bess (Carole Monferdini) who is forever anxious to please —, beginning with her following in her mother's footsteps by marrying a successful lawyer, only to have the mother look upon her son-in-law (Jack Davidson) as a far lesser version of her own dead husband, even though he apparently wrote all his father-in-law's briefs. While Bess gets along well enough with her oldest and youngest daughters Anne and Connie (Polly Lee and Julie Fitzpatrick), there's little warmth or laughter between them, and the middle daughter Evelyn (Fiona Gallagher) seems to detest her (but then she detests everyone, most of all herself).

The father and son are fairly peripheral characters, with the latter apparently in the play mainly to add some comic relief and to enliven the action with demonstrations of his "stomp rock" dance invention. His plan for keeping Granny out of the nursing home, also serves as the trigger the quiet sister Connie's one big scene.

The sisters as well their brother all obviously care deeply for Granny and have their own idea for dealing with her increasingly tenuous hold on reality, but there's nary a single display of genuine familial affection. Throughout the two acts there are plenty of trips to the refrigerator and grocery cupboard, but not a hug or a kiss— not between sister and sister, and not between mothers and daughters.

That brings us to Tommy Schrider's Ira Bienstock, the family outsider I mentioned at the beginning of this review as being the play's most endearing character. Everyone understandably takes to the unflappable young physicist who's followed Evelyn to the Berkshires even though she doesn't want him there since it could lead to a more meaningful relationship than their present strictly sexual liaison. Yet, when sister Anna seems to communicate especially well with him it kicks up a long festering grudge on Evelyn's part about her pretty older sister's interest in the men in her life. Thanks to Ira this turns into a carthatic for Evelyn. Schrider actually was in the Berkshires recently, giving a riveting performance as the somewhat creepy and probably lobotomized brother in the Berkshire Theatre Festival's production of The Caretaker and also as the overly ambitious Richard Rich in their revival of A Man For All Seasons. He is equally impressive as the very grounded and likeable Ira. Maybe if there were an epilogue, Ira might persuade the Whitaker-Frye clan to leave the confines of their lakeside house and enjoy a play at the Berkshire Theatre Festival or a concert at Tanglewood.



CLOSE TIES
By Elizabeth Diggs
Directed By Pamela Berlin
---
.
Cast: Jack Davidson (Watson Frye), Julie Fitzpatrick (Connie), Fiona Gallagher (Evelyn), David Gelles Hurwitz (Thayer), Polly Lee (Anna), Carole Monferdini (Bess Whitaker Frye), Judith Roberts (Josephine Whitacker), and Tommy Schrider (Ira Bienstock).
Set design: Michael Schweikardt
Costume design: Suzanne Chesney
Lighting design: Chris Dallos
Sound design: David Lawson.
Stage Manager: Mary E. Leach
Running Time: Approx. 2 hours and 20 minutes including intermission
Ensemble Studio Theatre (E.S.T.) 549 West 52nd Street/2nd Floor 212/352-3101 www.ensemblestudiotheatre.org
From 9/17/08; opening 9/25/08; closing 10/12/08.
Wednesday through Saturday & Monday evenings at 7pm with matinees Saturday and Sunday at 2pm.
Tickets: $30; $15, Students & Seniors
Reviewed by Elyse Sommer Sept. 22nd
REVIEW FEEDBACK
Highlight one of the responses below and click "copy" or"CTRL+C"

I agree with the review of Close Ties
I disagree with the review of Close Ties
The review made me eager to see Close Ties
Click on the address link E-mail: esommer@curtainup.com
Paste the highlighted text into the subject line (CTRL+ V):

Feel free to add detailed comments in the body of the email.