HOME PAGE

SITE GUIDE

SEARCH


REVIEWS

FEATURES

NEWS
Etcetera and
Short Term Listings

LISTINGS
Broadway
Off-Broadway

NYC Restaurants

BOOKS and CDs

OTHER PLACES
Berkshires
London
California
DC
Philadelphia
Elsewhere

QUOTES

On TKTS

PLAYWRIGHTS' ALBUMS

LETTERS TO EDITOR

FILM

LINKS

MISCELLANEOUS
Free Updates
Masthead
Writing for Us
A CurtainUp Los Angeles Review
A Circus Christmas Carol
God bless us, every one! — Tiny Tim


---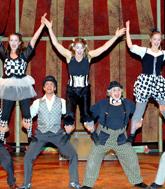 A scene from A Circus Christmas Carol
(Photo: Sashina Desay)

'Tis the season to see versions of A Christmas Carol dancing through every city and town and wondering if there can truly be a novel twist in store for this beloved Charles Dickens tale. Well, there is, in Long Beach's International City Theatre where director caryn desai (sic) tosses it to a traveling circus troupe.

The stream-lined adaptation by Doris Baizley was performed by the Mark Taper Forum for five seasons in the 1970s but desai has made it a play within a play performed by jugglers, acrobats, stiltwalkers and giant puppets. They're also very fine actors and the framing device of letting them pull bright costumes out of a shabby trunk nd struggle to replace Tiny Tim with the prop boy and Scrooge with the grumpy stage manager reminds us of the travails Dickens and his people endured in Victorian London.

As well as portraying characters and acrobats, the cast also plays the furniture. The prop boy waves a sheer fabric fog, a girl makes fire out of silken scarves, actors are doorbells, doors and squeaky gates. My hat is particularly off to the girl who plays Bob Cratchit's desk and bravely holds her legs straight up through several long scenes.

Among the most colorful and charming creative touches are Ali Baba (Mark Bedard) and Robinson Crusoe's Parrott (Madeleine Falk), characters in the books in which the young Ebenezer sought refuge when left alone at school over the holidays. They symbolize the fantasy and imagination that Ebenezer sacrificed in his career path to money and ambition. One misses his sister Fanny, one of the novel's most poignant characters, who rescued him from that lonely holiday and died young, after giving birth to his nephew Fred.

As The Director/Ringmaster, Paul Clausen prompts the Stage Manager, newly elevated to Scrooge, but it doesn't take long before he's off and running. Frank Simons grounds the production with a Scrooge who looks like Lionel Barrymore and segues vividly from his early framing role as Stage Manager through the suffering miser years to his joyful epiphany on Christmas morning.

Other cast members play multiple roles, headed by Paul Clausen as a dashing Ringmaster, melodramatic Marley and truly moving Bob Cratchit. Ciro Barbaro's fine voice augments his role as Fezziwig and Holly Jeanne brings robust humor to Mrs. Fezziwig and the Charitable Woman. Rachel Rawlins Prescott has a clear magical voice as Christmas Past and lends warmth and charm to Mrs. Cratchit. Madeleine Falk is a colorful and disdainful Crusoe's Parrott and an enchanting Snow Queen stalking delicately on stilts. Chris Fore and Sarah Girard sing beautifully, adding resonance to Fred and Mrs. Fred. Mark Bedard makes a striking sinuous Ali Baba and Ian Phillips shows range, alternating a wheedling Prop Boy with a wistful stoic Tiny Tim.

The gifted Tom Buderwitz contributes outstanding set designs, combining a red-striped circus tent with simple.portable props which reinforce the traveling troupe concept. Brian Paul Mendoza's choreography combines fluidly with Madeleine Falk's contribution as circus consultant.

It's easy to believe Charles Dickens, who loved theater, would have approved seeing his Carol extended by the skills of acrobats and reinforced as a storyteller's story.



A 'CIRCUS' CHRISTMAS CAROL
Charles Dickens' novel adapted by Doris Baizley
Director: caryn desai
---
Cast: Ciro Barbaro (Old Clown, School Master, Fezziwig, Jake the Fence), Mark Bedard (Clown #1, Ali Baba, Christmas Present, Scavenger), Paul Clausen (Director/Ringmaster, Marley, Bob Cratchit), Madeleine Falk (Clown #2, Parrot, Christmas Present, Scavenger, Snow Queen), Chris Fore (Young Leading Man, Fred), Sarah Girard (Ingenue, Belle, Mrs. Fred), Holly Jeanne (Charitable Woman, Mrs. Fezziwig, Mother-in-Law, Scavenger), Ian Phillips (Prop Boy, Tiny Tim, Little Caroler), Rachel Rawlins Prescott (Leading Lady, Christmas Past, Mrs. Cratchit), Frank Simons (Stage Manager, Scrooge)
Set Design: Tom Buderwitz
Lighting Design: Debra Garcia Lockwood
Costume Design: Sherry Linnell
Puppet Design, Sound Design: Sean Cawelti
Running Time: One hour and fifteen minutes, no intermission
December 1 -17, 2006
International City Theatre, Long Beach Performing Arts Center, 300 E. Ocean Blvd, Long Beach, (562) 436-4610
Reviewed by Laura Hitchcock on December 3.

Easy-on-the budget super gift for yourself and your musical loving friends. Tons of gorgeous pictures.

Leonard Maltin's 2007 Movie Guide

At This Theater


>