HOME PAGE

SITE GUIDE

SEARCH


REVIEWS

REVIEW ARCHIVES

ADVERTISING AT CURTAINUP

FEATURES

NEWS
Etcetera and
Short Term Listings

LISTINGS
Broadway
Off-Broadway

NYC Restaurants

BOOKS and CDs

OTHER PLACES
Berkshires
London
California
New Jersey
Philadelphia
Elsewhere

QUOTES

TKTS

PLAYWRIGHTS' ALBUMS

LETTERS TO EDITOR

FILM

LINKS

MISCELLANEOUS
Free Updates
Masthead

A CurtainUp Review
The Cherry Orchard
The Cherry Orchard transfers to London's Old Vic
As Sam Mendes' highly-anticipated Bridge Project reaches London, his ambitions of transatlantic collaboration reach their latest test: a West End audience.

In The Cherry Orchard, Mendes has sensibly chosen a classic play with far-reaching relevance and scope for an ensemble cast to show off their talents. With generous, spacious staging, he also has the benefit of a new translation by Tom Stoppard. Vastly faithful to the original, even literal at times, this version is clear and lucid, although with fewer Stoppardian puns than you would perhaps expect. It is clear that this text is far more Chekhov than Stoppard.

Considering the aims of this project, you might well expect the cast to be the key strength and attraction. And Simon Russell-Beale as Lopakhin goes a long way to support this hypothesis. His successful "son of a peasant" is marginalised, humiliated but ultimately triumphant, and a joy to watch. His pragmatism and awkwardness is fascinatingly at odds with the decayed grandeur of the aristocratic milieu and he is the most interesting social comment of the production. If anything, Russell-Beale is a little too sympathetic as the force who lays waste to the old values and household with his business acumen.

However, many of the other actors struggle to make a similar impression in the sprawling cast. Rebecca Hall's Varya in drab, &quot ;nun&quot ;-like clothes, is convincingly downtrodden but lacks a certain chemistry with Russell-Beale. When their relationship fades into emptiness, it is all too believable. Sinead Cusack's Ranevskaya portrays the extreme self-involvement of the part but without enough captivating charm to mitigate this and instead relies on blinkered girlishness to enchant her entourage. Ethan Hawke has a rather slight part as Trofimov, the student with "mangy" look and thick, gravelly voice.

Nevertheless, there were also some pleasant surprises of impressive acting: Josh Hamilton's genial Yasha, the "catastrophe corner" with a healthy dose of slapstick humour, Richard Easton's muttering, affectionately superannuated Firs and Selina Cadell's blunt Charlotta Ivanovna with magical prowess and quasi-existential attitudes.

Although this Cherry Orchard is accomplished, it doesn't quite live up to the high expectations commanded by Mendes and the Bridge Project. The emotional connection between the cast is not wholly there, nor is there really the sense that each and every one of the actors are the crème de la crème of the stage talent in the US and the UK. After all the logistical obstacles admirably overcome to create this unique theatrical opportunity, I can only hope that this is the foundation stone for an even more dynamic subsequent season.


Cast and credits as below
Box Office: 0844 871 7628
Booking to 15 August 2009
Reviewed by Cassie Robinson on 10th June 2009 performance at The Old Vic, The Cut, London SE1 (Rail/Tube: Waterloo)

Review of the production at BAM by
Elyse Sommer
(who was somewhat more enthusiastic about Ms. Cusack than Cassie Robinson).
People shouldn't go to plays. They should look in the mirror at their gray lives.— Ranevskaya.
---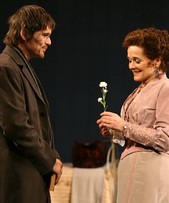 Ethan Hawke representing the American side of the Bridge and Sinead Cusa k the Anglo side
(Photo: Joan Marcus)

Liubov Andreevna Ranevskaya may view going to the theater as a diversion from looking into the mirror of one's own life — but, of course, if the play one goes to see is Chekhov's last masterpiece, The Cherry Orchard, it is indeed an experience that will mirror one's own life experiences.

In the first of the twin plays launching the ambitious Bridge Project's mission to enable artists and audiences on both sides of the Atlantic to experience one another's work, the beautiful, aging landowner is magnificently brought to life by Sinead Cusack. In one of this production's many compelling solos, she contemplates how her own life has turned gray. An unhappy love affair that has brought her back to seek comfort at the estate where she grew up, only to find herself confronted with the dire financial situation that calls for the sale of the estate and the razing of its treasured cherry orchard .

To make her and her windbag of a brother Gaev (well played by Paul Jesson) face up to the fact that the sale of the estate is crucial to their economic survival is Lopakhin (Simon Russell Beale), whose father and grandfather were part of the army of serfs who made these aristocrats' extravagant, life style possible. It's always a treat to watch Beale, one of Britain's premier thespians. His animated portrayal of the former serf turned wealthy business man fully captures the man's impatience with the impractical estate owners, the affection that's more than a little tinged with passion sure to be rejected by the impoverished but still class-conscious Ranevskaya, the unabashed glee when the estate becomes his. Beale's droll touches confirm that Chekhov's plays are indeed often as funny as they are sad and melancholy.

Actually, Tom Stoppard's beautifully accessible adaptation emphasizes the comic aspects of the play so that Beale isn't the only actor to dish up helpings of laughter. His version also lends itself to director Sam Mendes' giving free reign to the actors to speak in their natural accents. Mendes' directorial approach overall supports the emphasis on humor and at the same time depict the menace of the approaching revolution and its effect on the peasants and those who once ruled them. The stylish visual fillips work well enough to make this one of the engaging and enjoyable versions of this wonderful play that I've seen.

Occasionally Mendes' allows otherwise strong interactions to get out of hand. For example, Josh Hamilton (one of the three leading American actors who were previously united on stage in Stoppard's epic Coast of Utopia) is excellent in the relatively minor part of the socially ambitious servant Yasha, as is Charlotte Parry as Dunyasha, a housemaid who thinks winning his love is her step out of the servant class. Her aggressive pursuit of Yasha stops being funny and apt, however, when she is directed to unzip his pants.

The two other The Coast of Utopia veterans, Ethan Hawke and Richard Easton are also major pluses on the American side of the casting ledger. Hawke is terrific as Trofimov, the perennial student with social opinions that make it easy to picture him as an active participant in the coming revolution. The always outstanding Richard Easton, does not disappoint as the doddering old servant Firs who's left behind in the hustle and bustle of leaving the estate. As Firs, Easton gets the last words, and as himself, h the first.— It's his recorded voice that makes the cell phone announcement.

Besides reuniting the Coast of Utopia actors and Stoppard, Mendes pays tribute to that epic event with an obviously borrowed image in the second act, when a scrim at the rear of the stage rises on a line-up of ominously silent peasants. Though this is relatively bare bones production (the absence of elaborate and extensive props is no doubt influenced by the need to set up the production in so many locations), there are other stylistically stunning scenes.

The opening in the estate's nursery which has the actors sitting in child-sized chairs is a fascinating metaphor for the reduced circumstances facing the estate owners. The ball scene that coincides with the estate auction, is an effectively macabre glimpse of the future. But my two favorites scenes again highlight Simon Russell Beale's masterful acting. In the first, Lopakhin follows his announcement that he's bought the estate by flinging some dozen chairs to the ground like —- well, like so many cherry trees. In the second, Ranevskay has gotten Lopakhin to admit that he'd be willing to marry Varya (Rebecca Hall the superb third of the cast's leading Brits), her plain "as a nun" adopted daughter who is in love with him but won't make the first move. The almost wordless scene between these two is devastating and powerful enough to make you want to jump on the stage to force this tongue-tied pair to join hands.

The Stoppard trilogy at Lincoln Center was a one-of-a-kind event the likes of which we probably won't see again in the foreseeable future. Until then this hands-across-the-sea cast in two classic but very different plays comes satisfyingly close to being this season's not to be missed event.

For our review of te Bridge Project repertory partner, The Winter's Tale go here.



The Cherry Orchard
The Bridge Project collaboration between BAM & the Old Vic a
By Anton Chekhov, newly adapted by Tom Stoppard
Directed by Sam Mendes
Cast: Simon Russell Beale (Lopahkin), Sinead Cusack (Madame Ramevskaya), Richard Easton (Firs), Rebecca Hall (Varya), Josh Hamilton (Yasha), Ethan Hawke (Trofimov) Paul Jessum (Gaev),Selina Cadell (Charlotta Ivanovna), Dakin Matthews (Simeonon-Pishchik), Charlotte Parry (Dunyasha), Tobias Segal (Yepikhodov)lso Gary Powell, (Passerby; alspservants, guests, peasants),)Mark Nelson (Station Master; also servants, guests, peasants), Aaron Krohn (Post Office Clerk; alsoservants, guests, peasants). . . Michael Braun, Jessica Pollert Smith, Hannah Stokely (servants, guests, peasants)
Musiciicians: Music director Dan Lipton and Dana Lyn
Set design: Anthony Ward
Costume design: Catherine Zuber
Lighting design: Paul Pyant
Sound design: Paul Arditti
Hair & wig design: Tom Watson
Illusions: Peter Samelson
Associate Director: Gaye Taylor Upchurch
Dialect Coach: Timothy Monich
Music: Mark Bennett
Choreography: Josh Prince
Stage manager: Jane Pole
BAM Harvey Theater 651 Fulton St.718.636.4100 or BAM.org
> From 1/02/09; opening 1/14/09; closing 3/08/09.
Running time: Approx 2 hours and 40 minutes, including intermission
Tickets: Subscription tickets- $24, 48, 72(Full price: $30, 60, 90)
Reviewed by Elyse Sommer January 18, matinee

---
In repertory with A Winter's Tale
From 2/10/09; opening 2/20/09; closing 3/08/09.
Same production details with cast playing the following roles: Simon Russell Beale as Leontes, Sinead Cusack as Paulina, Richard Easton as Old Shepherd/Time, Rebecca Hall as Hermoine, Josh Hamilton as Polixenes, and Ethan Hawke as Autolycus. The Bridge project will follow its BAM engagement with an international tour that will include Singapore, New Zealand, Spain, Germany. Its penultimate stop will be a residency at London's Old Vic from May 22-Aug. 15, and a concluding stop at the Athens and Epidaurus Festival in Greece, fromAug. 21-22.
REVIEW FEEDBACK
Highlight one of the responses below and click "copy" or"CTRL+C"

I agree with the review of The Cherry Orchard
I disagree with the review of The Cherry Orchard
The review made me eager to see The Cherry Orchard
Click on the address link E-mail: esommer@curtainup.com
Paste the highlighted text into the subject line (CTRL+ V):

Feel free to add detailed comments in the body of the email. . .also the names and emails of any friends to whom you'd like us to forward a copy of this review.

Forward this review to yourfriend@
Try onlineseats.com for great seats to
Wicked
Jersey Boys
The Little Mermaid
Lion King
Shrek The Musical
---

South Pacific

In the Heights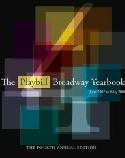 Playbill 2007-08 Yearbook

Leonard Maltin's 2008 Movie Guide