HOME PAGE

SITE GUIDE



SEARCH


REVIEWS

FEATURES

NEWS
Etcetera and
Short Term Listings

LISTINGS
Broadway
Off-Broadway

NYC Restaurants

BOOKS and CDs

OTHER PLACES
Berkshires
London
California
New Jersey
DC
Philadelphia
Elsewhere

QUOTES

TKTS

PLAYWRIGHTS' ALBUMS

LETTERS TO EDITOR

FILM

LINKS

MISCELLANEOUS
Free Updates
Masthead
Writing for Us
A CurtainUp Berkshires Music Feature

Two Nights at the Opera:
Tanglewood's Cosi Fan Tutt3
Berkshire Opera Company's La Boheme



Cosi Fan Tutte
LaBoheme

It's been a great season for opera lovers. Both Tanglewood and the area's own little-engine-that-could opera company, Berkshire Opera Company, served up feasts for the eyes and ears. For Tanglewood, opera permeated the season as Boston Symphony Music Director James Levine continued to emphasize his dedication to the art. The Berkshire Opera with its more limited resources, mounted just one fully staged opera, but as any parent of an only child will tell you, one is infinitely more satisfying than none —and in this case that one was an all time favorite, La Bohème, starring the Berkshires' own homegrown diva Maureen O'Flynn as Mimi and marking the company's first production in the beautifully restored Colonial Theater in Pittsfield. Below is a report on my two nights at the opera-- Cosi Fan Tutti on Monday, August 13th and La Boheme on Friday August 17th.

Tanglewood's Cosi Fan Tutti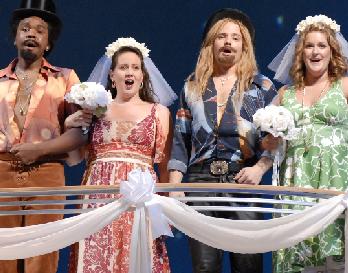 l-r: Ramone Diggs, Lauren Skuce, Michael Wyandt & Kathryn Leemhuis

Tanglewood's Cosi Fan Tutti

A highlight of the Tanglewood concert season was the evening featuring Don Carlo, which gave the Tanglewood Music Center Orchestra an opportunity to work with a master opera conductor and stellar professional singers. For the fully staged opera in the old Tanglewood Concert Hall that's become an annual event, Levine chose Mozart's comic chamber opera Cosi Fan Tutti which actually is better suited to this sort of smaller venue than the Met or other super-sized halls. The heavy orientation to vocal programs put off some of the "give me the symphonies I love" crowd, but the excellence of what was heard and seen won over many of these naysayers and Levine has unquestionably made the Tanglewood Fellows' summer a memorable educational experience.

Cosi. . . put the Music Center Orchestra in the pit, (three times with Levine at the helm and once Kazem Abdullah, a very dynamic young conducter who most ably conducted the performance I saw). It also gave a rotating cast of Tanglewood Music Center vocal Fellows a chance to take the stage. Ira Siff, whose opera-in-drag Grand Scena spoofs have been a hit with opera cognoscenti for years, directed this production geared to a young cast. John Michael Deegan and Sarah G. Conly designed a colorful, sleek Venice villa complete with a jacuzzi for Dorabella and Fiordiligi, and a small cafe (the Cafe Mozart, what else?) at the side of the stage where their fiances, decked out in gaudy 1970s night-on-the-town outfits are egged on by Don Alfonso to concoct a plot to test the ladies' fidelity. Siff's penchant for spoofing was immediately evident, when the overture begins with a Metropolitan Opera style snowflake chandelier rising to the top of the stage.

But whether modernized and buoyed by lots of campy goings on or not, the enduring appeal of Cosi Fan Tutti rests with Mozart's incredible combos — duos, trios, quintets, etc. Who cares if the sisters quite incredibly fail to see through their fiancés' disguises and let Despina, their maid, and Don Alfonso trap them into a flirtation that almost ends in a double marriage (with the wrong fiancés no less)? What counts is that the TMC cast handled all those combinations with panache, with Lauren Skuce the Fiordiligi I saw, especially strong.

If there's one complaint about these staged operas, it's that even nice fat pillows don't keep the seats in the old concert hall from being excrutiatingly uncomfortable— especially towards the rear of the hall where the floor slopes more steeply. One can only hope that one of Tanglewood's many fund raising activities could be set aside for funds to do something about making this concert hall less of a literal pain in the butt physically.

Production Notes
Cosi Fan Tutte - K.588 Dramma Giocoso In Two Acts
by Wolfgang Amade Mozart
Libretto by Lorenzo Da Ponte
Tanglewood Music Center Vocal Fellows
Tanglewood Music Center Orchestra
James Levine, Conductor (August 11, 12, And 14)
Kazem Abdullah, Conductor (August 13)
Ira Siff, Director
John Michael Deegan And Sarah G. Conly, Design
Cast:
August 11 and 13: Ramone Diggs/Ferrando; Michael Wyandt/Guglielmo; Paul Scholten/ Don Alfonso/ Lauren Skuce / Fiordiligi; Kathryn Leemhuis/ Dorabella; Emily Albrink/ Llespina
August 12 and 14: Ferrando Chad A. Johnson/Ferrando; Matthew Worth/ Guglielmo; Giles Tomkins/ Don Alfonso; Layla Claire/Fiordiligi; Sarah Austin/Dorabella; Kiera Lluffy/Llespina

Berkshire Opera Company's La Bohème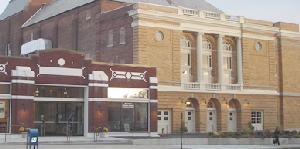 Exterior of the elegantly restored Colonial Theater in Pittsfield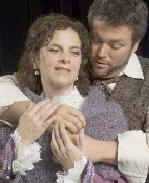 Maureen O'Flynn as Mimi and John Bellemer as Rudolfo
(Photo: Kevin Sprague).

No need to take an extra pillow to make the Berkshire Opera Company's summer 2007 fully staged production a comfortable as well as a musically rich experience. The presentation of Puccini's forever crowd pleasing La Bohème at the beautifully restored Colonial Theater in Pittsfield is a landmark event for both organizations.

Like the opera company that refused to succumb to financial problems and remains a vibrant part of the Berkshire arts and entertainment scene, the Colonial Theater's restoration often seemed like an impossible dream. But there it stands, a stately, imposing edifice with the gilt finished trims, painted ceilings, imposing columns fully restored to the theater's original splendor. And you couldn't wish for better acoustics for Puccini's hit parade of melodic arias —or more attractive, lyrically powerful and emotionally touching young Bohemians.

Thanks to its truly hummable arias and its brevity (most grand operas run at least 3 hours), La Bohème is a perfect choice for opera newbies as well as opera buffs. The romantic saga has been famously popularized by the long running rock musical Rent and more briefly by impresario Baz Luhrmann's Broadway-ized production —not to mention the use of the music as the impetus for Cher's romantic epiphany in Moonstruck. To sum it up with just enough words to fit into the seamstress heroine's thimble: Mimi knocks on painter Rudolfo's studio door to borrow a candle. He finds one, strikes a match and it's love at first light (alas doomed by her ill health). A subsidiary love story with a happier ending involves Rudolfo's attic mate, painter Marcello, and the sassy Musetta. To add some light moments to the get-out-your-hankerchief romance, there are two other attic dwellers, Colline and Schaunard.

Maureen O'Flynn is not only a superb Mimi but adds to the celebratory nature of this very special coming together of this area's overflowing cornucopia of cultural treasures. She is a local girl who has graced opera stages, including the Metropolitan, since making her debut with BOC. There is strong chemistry between her Mimi and John Bellemer's Rudolfo. Their physical compatility extends to their singing. Her velvety soprano and his sweet tenor soar —whether in solo arias, duets or as a quartet with the equally well-paired and strong voiced Musetta and Marcello of Sari Gruber and Troy Cook. With bass Jason Hardy as Colline and baritone Marcus DeLoach as Schaunard, the roles of the sidekicks are also in good hands. Hardy is delightfully agile and has a beautiful booming voice.

While the Colonial is a large grand dame of a theater, it's not a behemoth so there's a pleasing intimacy in terms of the seating which includes side loges and two balconies. This also applies to the stage and the pit for the Berkshire Opera Band and conductor Kathleen Kelly. In keeping with this big yet intimate aura, Jean-Francois Revon designed a versatile basic set that transforms with minimal fuss from freezing attic, to chorus populated cafe, to haunting entry gates to the city and back to the attic in springtime.

As many artisitic organizations ring their hands over aging audiences without sufficient interest in classical entertainment by young people, the Berkshire Opera is doing something about it: It invited any high school student in the area to sit in the gallery for any of the five performances for FREE! (That gallery at the Colonial is the equivalent of a pretty high-priced second ring seat at the Met). What's more, realizing that you can't begin to build an appreciation for good music too early, the last performance, a Sunday matinee, carries a special $10 ticket for children between 7 and 15 when accompanied by a adults paying full price.. Bravo! Brava! Hurrah!

La Bohème Music by Giacomo Puccini Libretto by Giuseppe Giacosa & Luigi Illica La Bohème at the Colonial Theatre Pittsfield, Massachusetts
Music by Giacomo Puccini
Libretto by Giuseppe Giacosa & Luigi Illica
Stage Director : Chuck Hudson
Conductor: Kathleen Kelly
Set Designer: Jean-Francois Revon
Light Designer: John Demous
Costume Designer: Charles Caine
Cast: Maureen O'Flynn/Mimi; Sari Gruber/Musetta; John Bellemer/Rodolfo; Troy Cook/Marcello;Jason Hardy /Colline; Marcus DeLoach/ Schaunard;Ryan Allen/Benoit&Alcindoro
Performances: August 17, 22, 24 at 8pm; August 20 and 26th at 2pm
Seen at August 17th opening performance.



Try onlineseats.com for great seats to
Wicked
Jersey Boys
The Little Mermaid
Lion King
Shrek The Musical

Easy-on-the budget super gift for yourself and your musical loving friends. Tons of gorgeous pictures.

Leonard Maltin's 2007 Movie Guide

At This Theater
Leonard Maltin's 2005 Movie Guide


>